VILLA ORIANA
Villa Oriana is located at 5 minutes from the center of Sorrento in a splendid scenic position on the immersed among citrus groves, lies Villa Oriana, the ideal spot for your vacation in Sorrento and on the Amalfi Coast, surrounded by top quality comforts and a warm family atmosphere.

The house, equipped with a private entrance and private parking lot, covers four floors, three are for guests only, in order to combine maximum service with privacy.
More Description:
Villa Oriana is situated in a splendid position: overlooking the Bay of Naples, 5 minutes from the center of Sorrento and near many lovely spots of the peninsula and coast. This comfortable elegant Sorrento bed & breakfast is the ideal basis for discovering the artistic and natural wonders of the area: in fact, by car or train it is possible to quickly reach spots like Naples, Pompeii, Herculaneum, Mount Vesuvius, Positano, Amalfi and Ravello.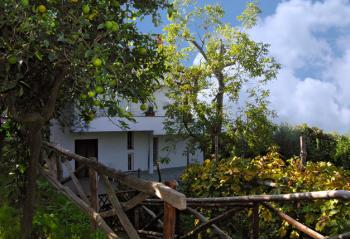 01. Villa Oriana
The short distance that separates Villa Oriana from the harbor in Sorrento, also makes it possible to make the unique experience of a hydrofoil ride to Ischia and Capri, the pearls of the Bay of Naples. We will be happy to suggest the most interesting trips to take in the surrounding areas and provide all the information on exhibits, performances and local food and wine festivals, to enjoy the extraordinary traditional dishes of our land.