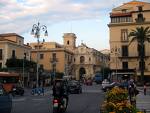 From the home page....
The well-equipped receptive structures,the high quality of the services offered, the range of opportunities for recreation, sport and culture have all contribuited to its renown.
Piazza Tasso: Sorrento Main Square
The heart of the city is the central Piazza Tasso, one of the favorites sites for the evening promenade.Two statues stand in the tree-shaded square: the best-known is the one with a high base, the Monument to Torquato Tasso, the poet born in Sorrento on March 11. 1544, and who died in Rome on April 25, 1595, famous for his pastoral drama Aminta and the heroic poem Jerusalem Delivered. The sculpture was completed by G. Carli in 1870. The other statue, made by Tommaso Solari in 1879, depicts a blessing St. Anthony Abbot, the patron saint of Sorrento who found refuge here when the Lombards descended on the region. Facing out on the square at the beginning of the Corso Italia, is the porticoed Church of S. Maria del Carmine. Inside are a fine tabernacle datable to the second half of the 18th century, and an allegorical painting on the ceiling, of Carmelite subject, painted in the first half of the 18th century by Onofrio Avellino.
.
The ideal civil Wedding

This 18th century church, dedicated to the saint from Assisi, stands near the VIlla Comunale, a green and panoramic palm-shaded park. The verticality of the two-story facade is stressed by the number of pilaster strips. A large oculus is set into the upper tier while a statue is set above the center of the cursis a carved wooden door by a 16th century artist.
The convent building annexed to the church is notable stylistically for its small Cloister. Exceptionally fine characteristic spire, with masonry that in part dates to Roman times. Two sides of the cloister are articulated by octagonal columns with elegant capitals supporting round arches. The other two sides are striking in the interlacing of pointed arches, small columns and lunettes. This portion of the portico, 14th century, reveals an obvious Arabic influnce.
Check Dates: