Hotel Girasole
The Girasole hotel, located at the beginning of Sorrento, is a family-run property, opened in 1970, featuring 39 guestrooms.
The Ruocco family has obtained the hotel's first bedrooms from their own house and, throughout the years, the property has structurally increased, developing new services and comfort, as the recently built swimming pool.Guests will admire the hotel's marquetry from the Sorrento collection, the work of 19th century's wooden inlaying masters and on request they can visit a characteristic citrus fruit field of Sorrento, situated in the hotel area.On-site amenities include air conditioning in the whole structure, a bar with a large lounge and TV, in-room service on request, a rich buffet breakfast served in the breakfast room overlooking the garden with old orange trees and a neverending variety of flowers, a lovely outdoor swimming pool with bar, a free private car park. Dogs and small pets are accepted. Baby sitting service is available upon request.
The quality-hotel Girasole offers its guests warmth and welcome: the Ruocco family takes personal care of any detail and will be glad to help you with any kind of information and advice, making your stay pleasant and enjoyable.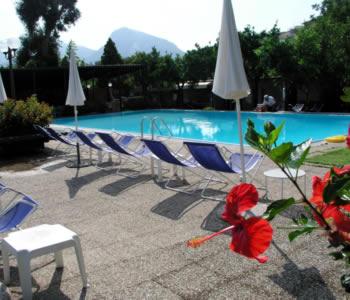 Price From 90€ per night