Hotel Belair
Set in one of the most enchanting and suggestive scenarios of Sorrento, on the sea cliff, the hotel Belair offers a comfortable stay on the Sorrentine coast. In a few minutes' walk, you will reach the splendid beach. Moreover, the bus line A very close at hand, will allow you to reach in no time the Sorrento Circumvesuviana railway station and the main attractions.
The property features a breathtaking panorama over the Gulf of Naples and offers its guests a combination of Napolitan warmth and elegance of Mediterraneum style. On-site amenities include a Wi-Fi Internet Point, a bar, a terrace bar,a pool bar, a restaurant, a fitness area and a pool.
The hotel Belair is an ideal base for exploring Sorrento, where a spectacular sea blends with ancient traditions, and the beautiful surroundings like Capri, Pompei, Ercolaneum and Amalfi Coast.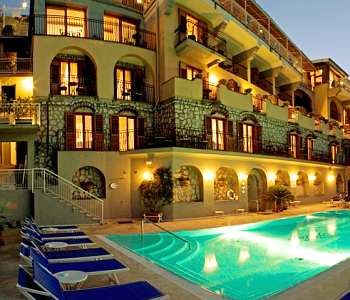 Price From 200€ per night